Our house has now returned to it's 'quiet' self now that our D litter puppies have left us for their new homes.
It was a sad moment for us when the last one left our home as this will be our last litter for possibly the next two years.  We have enjoyed meeting all our families and seeing our pups go to live in such happy surroundings and seeing the joy they have brought to their new families.
Lillian, the protector of puppies, was especially sad to see them go.  As much as an almost 3 year old can understand what happens to her puppies, she did a very good job screening the families to came to our house and understood what was happening when they left and did not cry.
Lillian (Tiger Lilly), the protector of puppies – screening families
Some of the puppies in their new homes.
Shiloh (formerly Pink girl)
Sahki (formerly Gold Girl)
Polar (formerly Dark Blue Girl)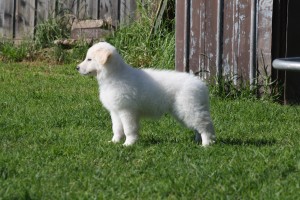 Buddy (formerly Dark Blue Boy)
Mojo (formerly Pink Boy)
Shen (formerly Gold Boy)
Eisbar (formerly Light Blue Girl)
Jasper (formerly Light Blue Boy)